I stole this idea from my friend Jen over at http://sleekunique.blogspot.com/ (check her out she's awesome). I absolutely love anything that is a blank canvas that I can create something onto. In this case, wooden trays. They are extremely affordable and easy to decorate. You can buy a pre-painted one and add personal touches but, I prefer just a plain wooden tray.
The possibilities are endless. You can use it as a centerpiece by filling the tray with sand, stones, marbles, etc…. and then placing pillar candles on top. You can paint them, scrap them , do a funky mosaic or decoupage. You can use it as a laptop table. My new favorite way to use them is as a kids art table. Or, in this case, art chalkboard table.
Here are a few examples followed by the blackboard tray that I made.
Decorative Centerpiece Trays
Chalkboard/Art Table Tray
This is what it looked like before...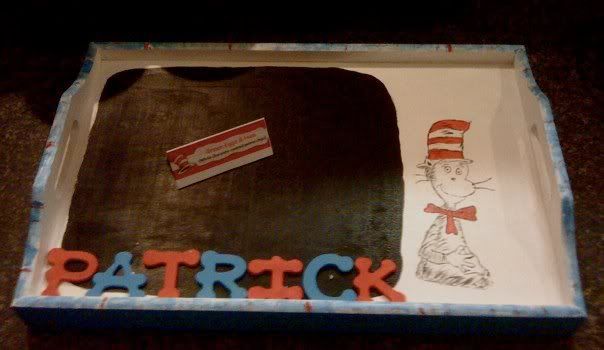 I used a foldable wooden tray so when he plays with it he can use it as an art desk. i also used white and black chalkboard paint. You can buy them in the spray paint or craft paint. I used craft paint. I them free hand painted the Dr.Seuss and sprayed that section (only) with clean enamel so it won't chip or scratch. You don't want to spray over the chalkboard paint because then you won't be able to use the chalk on the tray. I used wood letter and painted them with craft paint then hot glued them to the tray. You don't have to decorate the tray you can just paint it in any chalkboard color/s of your choice and it's ready to go.
For more pictures and ideas don't forget to visit Sleek and Uniques page at http://sleekunique.blogspot.com/